Details

Hits: 954
Webpage from Howell High School's "We The People" Team
(sponsor logos are shown along the right hand side)
RetakeOurGov is proud to be a sponsor of Howell High School's "We The People" Team. Contributions from our supporters went toward paying the $50,000 in travel costs for Howell's Team to travel to Washington D.C. and compete for the National Championship.
Howell's 2013 "We the People" team won the Michigan State Championship, thus qualifying the team to compete in the finals.
About The Program
"We the People… The We the People: The Citizen and the Constitution Program is an instructional program on the history and principles of American constitutional democracy. It promotes civic competence and responsibility around the nation to elementary, middle, and high school students. The program is based on curricular materials developed by the Center for Civic Education (www.civiced.org). The interactive strategies, including the simulated congressional hearing, make teaching and learning exciting for both students and teachers.
The program is acclaimed by leading educators from across the country. Several studies by the Educational Testing Service (ETS) and Professor Richard Brody of Stanford University indicate that students who used the curriculum "significantly outperformed comparison students" on every topic studied.
The text is divided up into six different units: Unit One – What are the Philosophical and Historical Foundations of the American Political System, Unit Two – How did the Framers create the Constitution, Unit Three – How has the Constitution been changed to further the ideals contained in the Declaration of Independence, Unit Four – How have the values and principles embodied in the Constitution shaped American Institutions and Practices, Unit Five – What rights does the Bill of Rights protect, and Unit Six – What challenges might face American Constitutional democracy in the Twenty-First Century.
Simulated congressional hearings, excellent for performance assessment, are built into the curriculum. At the high school level, classes may choose to enter a competition structured as a simulated congressional hearing where their knowledge of the Constitution is tested. Students, in groups corresponding to the units, research three different topics associated with their unit. They prepare four minute statements for each topic. At the hearing, they deliver one of their prepared statements and then respond to follow up questions from a variety of experts, including professors, lawyers, judges, government officials, and other civically minded individuals. The group is scored in six categories: Knowledge and Understanding, Constitutional Application, Reasoning, Responsiveness, Supporting Evidence and Participation.
Students put in hundreds of hours beyond the class time researching original documents, synthesizing information to form a sound understanding, and strengthening that understanding through civil discourse with their colleagues. The skills that students learn are invaluable to them in their education, career, and as citizens. The students improve their collaborative, research, reading, and speaking skills. Additionally, they show their ability to think on their feet. Most importantly, they learn the necessary critical thinking skills necessary to be a productive member of our representative democracy
Details

Hits: 23814
We had almost 200 people come out to our latest event, even with the very short notice. And, we're getting great press coverage.
An AP photographer took a great photo of our RetakeOurGov Burn ObamaCare in Hell (Michigan, that is) event this past Friday night.

The AP photo was picked up by abcnews.com, and from a wide variety of news websites from here in Michigan to Iowa, to Ohio, to Indiana, North Carolina, Tennessee, to Wisconsin, to Pennsylvania, to Minnesota, to North Carolina, to Texas, from Dan Diego to San Francisco in California, Maryland, Nebraska, Montana, Massachusetts, and even Washington D.C.! (There may be even more, but I stopped looking.)

See for yourself. Search for "retakeourgov burn" on Google to see an AP photo that was picked up all across the country. If you see the phrase "In order to show you the most relevant results, we have omitted some entries very similar to the 16 already displayed.If you like, you can repeat the search with the omitted results included.", then click on the hyperlink for more search results. And, if you are given the option to see results for the last 24 hours, click on that link. Or, do an Advanced Search and select "past week" under the option "last updated".

Before the event, articles featuring that we would be doing this event occurred not just on websites from Michigan, but in other venues as well, including the Legal News at FindLaw.com.

This, folks, is earned media. And we have to keep it up. It's crucial that we do our part to help flip the Senate in November and boot out Obama. ObamaCare will not die without achieving both. Only then can we bury the bill for good.

If you support what we're doing, please contribute to our efforts. To find out more about what we've been up to, visitwww.RetakeOurGov.com.

RetakeOurGov is an all-volunteer organization. All contributions directly fund our efforts and not one penny goes to salaries, wages or benefits. We're truly grassroots! RetakeOurGov is a multi-candidate political action committee (PAC), not authorized by any candidate or candidate committee. RetakeOurGov is non-partisan and opposes candidates, regardless of party affiliation, that fail to support a limited role for government, as expressed in the Constitution of the United States. RetakeOurGov may also endorse and support candidates who support our Constitution.
ObamaCare Bill Burns in Hell
Details

Hits: 5814
register here for free tickets
Patriots in the Park
Saturday, July 14, 2012
Noon to 6PM
at

Wayne County Fairgrounds
10871 Quirk Rd.
Belleville, MI 48111
[Near I-94 and Belleville Rd.]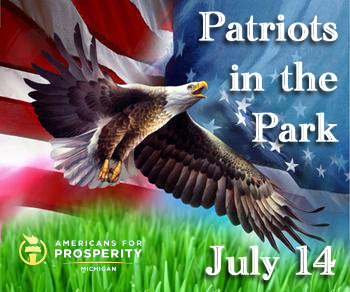 Join us July 14th for great speakers and entertainment for the whole family as we meet friends to talk about many of the issues facing our nation. With socialized health care, high gas prices, record debt, high unemployment, and a host of other issues, we've really got our work cut out for us.
Americans for Prosperity - Michigan has teamed up with the Willow Run Tea Party Caucus to bring you a lineup of speakers we hope will invigorate you to get involved in defending free markets and limited government.
Current confirmed speakers include:
Sarah Palin, Writer, Commentator, Former Vice-Presidential Candidate
Event MC: Thayrone X, Owner and Host on Ann Arbor's WAAM Radio
Scott Hagerstrom, State Director at Americans for Prosperity - Michigan
Sen. Patrick Colbeck
Pastor Levon Yuille
Dr. David Janda, Ann Arbor Orthopedic Sugeon & Radio Host
Janice Daniels, Mayor of Troy, MI
Terry Bowman, UAW member and Founder of Union Conservatives
Area Tea Party Leaders
Campsites Available; Call Wayne County Fairgrounds at 734-697-7002
All proceeds for this event will go to support The Fallen and Wounded Soldiers Fund
Americans for Prosperity (AFP) is a nationwide organization of citizen-leaders committed to advancing every individual's right to economic freedom and opportunity. AFP believes reducing the size and intrusiveness of government is the best way to promote individual productivity and prosperity for all Americans. Americans for Prosperity does not support or oppose candidates for public office. For more information, visitwww.MichiganAFP.com
Details

Hits: 41505
Please join us for a combined meeting of four TEA Party groups for a behind-the scenes look at the national strategy for sending Barack Obama back to Chicago and the lessons learned from 2008. Ron Weiser, the RNC National Finance Chairman, will present a one-of-a-kind look at the grassroots and fundraising efforts of Republicans across America. Ron will also discuss the important campaign to defeat the union referendum which would roll back our progress toward freedom in the workplace, and how that effort fits into our overall strategy.
Meeting starts at 7 pm on August 9th at the conference room at Bakers of Milford (map)
About our speaker: Ron Weiser has been instrumental in raising money to defeat President Obama. You may have read recent articles indicating that the RNC and Mitt Romney have recently outpaced Obama and the Dems in the fundraising arena. This is in large part due to Ron's leadership and commitment. Ron was formerly the Chairman of the Michigan Republican Party during the 2010 election cycle when Republicans took control of all branches of state government.
Details

Hits: 9071
UPDATED ON: THURSDAY JUNE 28, 2012, 10:30 AM
The Supreme Court has just upheld the individual mandate! Unfortunately for the American people, Obama Care is still the law of the land.
In light of this ruling we have changed the theme of our get together - we will unite at the Dam Site Inn and voice our dissent against this outrageous ruling.
H.R. 3200 will still burn in Helll!
Spoke with the owner of the Dam Site Inn and all attendees will get a FREE GLASS OF ICE TEA!!!
Thayrone X will join us around 7 pm. We'll have our ceremonial burning and burial of H.R. 3200 (Obama Care bill) at around 7:15. You might want to bring a lawn chair and some insect repellent as the ceremony will be outdoors.
Consider supporting our host and joining us early for food and fellowship!
See link below for a map with directions.
UPDATE: WEDNESDAY JUNE 27, 2012
Looks like SCOTUS won't rule till tomorrow. So we are on for Friday if Obama Care is overturned. Spoke with the owner of the Dam Site Inn and all attendees will get a FREE GLASS OF ICE TEA!!!
Thayrone X will join us around 7 pm. We'll have our ceremonial burning and burial of H.R. 3200 (Obama Care bill) at around 7:15. You might want to bring a lawn chair and some insect repellent as the ceremony will be outdoors.
Consider supporting our host and joining us early for food and fellowship!
See link below for a map with directions.
----------------------------------------------
Patriots across America will rejoice if the Supreme Court of the United States (SCOTUS) overturns Obama Care!
Join us for a celebration if SCOTUS rules in favor of the American people and rejects government run health care.
While we are hopeful that there will be a celebration we aren't exactly sure when the celebration would be. Why? We are not sure when SCOTUS will issue its ruling. Our celebration would likely be the day after the decision is released. Please stay tuned for the exact timing.
Below is a copy of an email that we sent out this morning. This email provides the best information we have as of today (6/24 at 11:00 pm). This event is truly an impromptu celebration as the idea was hatched earlier this morning. Please bear with us as we work to pull this event together on short notice.
Here is a map to the Dam Site Inn.
----------------------------------------------
Email notice that went out on the morning of 6/24.
I know this is short notice…
I'm arranging an event to commemorate the overturning of Obama Care.
This event would only be held if the Supreme Court of the United States (SCOTUS) rules that part or all of Obama Care to be unconstitutional.
Here is what's in the works:
Event would be at the Dam Site Inn in Hell, MI – we've had other Tea Party events here in the past.
I've already spoken with the owner of the Dam Site Inn and he is on board with this event.
The event would be held on one of two days. Either the day SCOTUS rules or the day after SCOTUS rules. (I think it is likely that our event would be held sometime this week). Of these two dates, I'm leaning toward the day after. The event will start in the early evening and run until people leave. I'm going to ask that people arrive around 4-5 pm and then order a bite to eat to support the Dam Site Inn.
I've already spoken with the owner of the Dam Site Inn and he is on board with this event.
The theme/agenda for the event is:

This is an impromptu celebration of a great victory for the American people.
We will eat, drink, and be merry.
We will have a short ceremony where we burn a replica of the Obama Care Bill, all 2801 pages. It will be exciting to see this legislation "burn in Hell."
After the burning we will bury the ashes in Hell! We'll let attendees scoop a shovel full of dirt on the remains. This is truly a shovel ready job.
We will have some guest speakers say a few words about the importance of this historic decision. I'm guessing that speaking will take place around 6:30 or 7 pm
We would encourage the speakers to remind attendees that Senator Stabenow voted for this legislation.
We have made arrangements to have someone video tape this event for YouTube.
If you can help with coordinating this event please reply to this email or call Wes at 810-207-1867.
We worked hard to derail this legislation. A victory here is certainly cause for celebration!
The idea for this event just blossomed this morning so I'm scrambling to square away all of the details. I'll be contacting citizens via email and Facebook to notify them of this celebration.
Thayrone X from WAAM will be one of our speakers. Unfortunately Dr. David Janda is out of town this week. I will contact Dr. Rob Steele and others from Docs4PatientCare to see if they could speak at this event. If you have any connections for additional speaker please let me know.
Please share this with your friends via email, Facebook, etc. Let them know that the exact date and time is dependent upon when the Supreme Court ruling comes down. Let people know that I'll post the exact date/time and directions at www.RetakeOurGov.com.
Hope you can join us! Should be fun!
Calendar
Voting Scorecards
Our Financial Supporters
John R.  Fenton, MI
Kevin N.  Pinckney, MI
Linda W.  Brighton, MI
Margo A.  Olivet, MI
Jeffrey L.  Troy, MI
James B.  Saginaw, MI
Margaret P.  Jackson, MI
Kathleen D.  Bloomfield Hills, MI
Bob J.  Hartland, MI
Robert J.  Northville, MI
Sandra B.  Highland, MI
Betty G.  Brighton, MI
Bob F.  Macomb Township, MI
Tomas  K.  Grandville, MI
Bob H.  Fenton, MI
Kevin C.  Rochester Hills, MI
Lillian S.  Bridgeport, MI
Jan H.  Fenton, MI
Tracy L.  Brighton, MI
Jill V.  Highland, MI
Judith C.  Flint, MI
Larry P.  Plymouth, MI
James A.  Waterford, MI
Daniel W.  Kalamazoo, MI
Richard and Phyllis I.  Georgetown, TX
Shari D.  Frankenmuth, MI
Angus W.  Bloomfield Hills, MI
Dan W.  Brighton, MI
Robin H.  West Bloomfield, MI
Alfred H.  Howell, MI
Dave B.  White Lake, MI
Mac L.  Hartland, MI
Randal C.  Milford, MI
Richard G.  Howell, MI
Roger C.  Bloomfield Hills, MI
Donna N.  Hartland, MI
Joseph R.  Chelsea, MI
Lana T.  Brighton, MI
Dan A.  Howell, MI
John C.  Gregory, MI
Patrick C.  South Lyon, MI
Stephen R.  Chesterfield, MI
Edward F.  Plymouth, MI
Wendy H.  Gregory, MI
Peggy M.  White Lake, MI
Deborah M.  Howell, MI
George B.  Howell, MI
Shannon W.  Howell, MI
Jack P.  Commerce Twp, MI
Steve P.  Northville, MI
Susan O.  White Lake, MI
Dennis M.  Bloomfield Hills, MI
Marsha S.  Fenton, MI
Mary Lou H.  Livonia, MI
James K.  Dearborn, MI
Ronald B.  Sterling Heights, MI
Darleen P.  Plymouth, MI
Lou F.  Novi, MI
Margie W.  Farmington Hills, MI
Ronald M.  Grosse Pointe Park, MI
Ben D.  Milford, MI
Dierck O.  Northville, MI
Anna J.  West Bloomfield, MI
Clinton D.  Howell, MI
Karen C.  Farmington Hills, MI
Laura M.  Hartland, MI
Charles R.  Ypsilanti, MI
Lelton N.  Highland, MI
Charles M.  Brighton, MI
Shelly M.  Pinckney, MI
Marlene L.  Hartland, MI
John M.  Essexville, MI
Sarah B.  Hartland, MI
Joe H.  Hamburg, MI
Doug K.  Fenton, MI
Jim H.  Hartland, MI
John W.  White Lake, MI
Matthew O.  West Bloomfield, MI
Daniel H.  Milford, MI
Joella T.  Highland, MI
Merle R.  Walled Lake, MI
Linda O.  Fenton, MI
Leonard L.  Whitmore Lake, MI
Scott P.  Wixom, MI
Wendy S.  Brighton, MI
Janice L.  Fenton, MI
Joseph L.  Wyandotte, MI
Glenda M.  Holly, MI
Cathy R.  Saranac, MI
Robert B.  Clarkston, MI
Kay S.  Dewitt, MI
Mike K.  Commerce Twp, MI
Rick M.  Grosse Pointe Farms, MI
Jim S.  Bloomfield Hills, MI
Mark N.  Warren, MI
Marvin N.  Pinckney, MI
Brian F.  Webberville, MI
Matt B.  Farmington Hills , MI
Joyce K.  Westland, MI
Deborah P.  White Lake, MI
Marilyn O.  Commerce Township, MI
Laura Q.  Fenton, MI
James M.  Fenton, MI
Tanya K.  Fenton, MI
Tom S.  White Lake, MI
George W.  Whitmore Lake, MI
Gary and Kathleen K.  Ironwod, MI
Lill & Jim  M.  W. Bloomfield, MI
Don B.  Highland, MI
Brad S.  Rochester Hills, MI
Vickie K.  Farmington Hills, MI
W. Charles G.  Onsted, MI
Luigi M.  Hartland, MI
Charles K.  Highland, MI
Richard B.  Northville Twp, MI
James L.  Pinckney, MI
Gary K.  Redford, MI
Gary M.  Brighton, MI
Janice D.  Troy, MI
Jennifer D.  Howell, MI
Eric S.  Tampa, FL
Thomas C.  Rochester Hills, MI
Tim V.  Wayne, MI
Gloria H.  Troy, MI
John S.  Boyne City, MI
Stella .  Davisburg, MI
Terry G.  Saginaw, MI
Christine S.  Hartland, MI
Cynthia D.  Fowlerville, MI
Jason H.  Fenton, MI
Richard S.  Battle Creek, MI
Renee G.  Fenton, MI
Michael S.  Hell, MI
Donn W.  Farmington Hills, MI
John G.  Fowlerville, MI
Joseph F.  Lansing, MI
Roy V.  South Lyon, MI
Tom R.  Fairhaven, MI
Edmund K.  Northville, MI
Sue M.  Pinckney, MI
Marlene B.  Pinckney, MI
Russell G.  Brighton, MI
Craig O.  Holly, MI
B.H. A.  Troy, MI
Jeff M.  Howell, MI
Stacia L.  Waterford, MI
Jim M.  Pinckney, MI
Sandy W.  Lake Orion, MI
Joanne T.  Carleton, MI
David D.  Fenton, MI
Kim J.  Garden City, MI
Gregg C.  South Lyon, MI
Robert J.  Hartland, MI
Terry S.  Trenton, MI
Mary M.  Brighton, MI
Dave D.  Linden, MI
Fred D.  Fowlerville, MI
Cheryl W.  Washington, MI
Glenn N.  Howell, MI
James M.  Highland, MI
Gerri D.  Fenton, MI
Myron Z.  West Bloomfield, MI
Shawn M.  Pinckney, MI
Jim H.  Wixom, MI
Mark K.  Shelby Twp, MI
Donald T.  Dexter, MI
Geri C.  Royal Oak, MI
Bill H.  Mt. Clemens, MI
Daniel K.  West Bloomfield, MI
Norman S.  Williamston, MI
Roger K.  Saginaw, MI
Kevin S.  Farmington, MI
Larry V.  Whitmore Lake, MI
Douglas W.  Commerce Township, MI
Judy M.  Hell, MI
Dianna B.  Stockbridge, MI
Jenny C.  Brighton, MI
Joelle A.  Highland, MI
Joellen P.  Milford, MI
Rick W.  Grand Blanc, MI
T. L.  Livionia, MI
Jerry W.  Brighton, MI
Sharon L.  Plymouth, MI
Dianne C.  Bay City, MI
Joanie P.  Howell, MI
Sharon M.  Brighton, MI
Laura B.  Hartland, MI
Steven B.  Livonia, MI
Bobby N.  Colorado Springs, CO
Kathryn C.  Farmington Hills, MI
Mike P.  Dimondale, MI
David S.  Hartland, MI
Jeff S.  Lansing, MI
Maribeth S.  Plymouth, MI
Elsa E.  Pinckney, MI
Tom K.  Auburn Hills, MI
Diane H.  Fenton, MI
Ron W.  Plymouth, MI
Suzanne P.  Downers Grove, IL
Marilyn D.  Howell, MI
Amy S.  Howell, MI
Janie M.  Macomb Twp, MI
Ruth J.  Davisburg, MI
Robin B.  Linden, MI
Carol W.  Fenton, MI
Gregory H.  Howell, MI
John G.  Rochester, MI
Ralph T.  Plymouth, MI
Charles H.  Hartland, MI
Dave R.  Howell, MI
Jane H.  Howell, MI
Dick B.  Bloomfield, MI
James B.  Saginaw, MI
John B.  Fowlerville, MI
Ken M.  Pinckney, MI
Ray M.  Howell, MI
Judson E.  Milford, MI
Robert C.  Farmington Hills, MI
Nancy M.  Tampa, FL
Darlene L.  Charlotte, MI
Thelma G.  Berrien Springs, MI
John N.  Ann Arbor, MI
Christine C.  Howell, MI
Delores W.  Augusta, MI
Lynn R.  Fenton, MI
Donna R.  Burton , MI
Maria S.  Fenton, MI
Sarah L.  Commerce Twp, MI
GREG E.  PLYMOUTH, MI
Deborah O.  West Bloomfield, MI
Jon W.  Augusta, MI
Robert M.  Birmingham, MI
Arlene C.  Brighton, MI
Fadwa G.  Royal Oak, MI
Gail G.  Royal Oak, MI
A. Jean W.  Addison Twp, MI
Diana A.  Bloomfield Hills, MI
Mark W.  Howell, MI
Ron S.  Fowlerville, MI
Dustin B.  Onsted, MI
Glenn H.  Lansing, MI
Harry H.  Novi, MI
JAMES E.  Bellaire, MI
Bob G.  Howell, MI
Mark P.  Howell, MI
Shelly S.  Wixom, MI
Christine S.  Hartland, MI
Dave R.  Grand Blanc, MI
Karen B.  Fenton, MI
Larry G.  Hartland, MI
Carol  V.  Lansing, MI
Joanne D.  Highland, MI
Patricia B.  Northville, MI
Gary and Jane G.  Grand Rapids, MI
Marcia D.  Fenton, MI
Rockie A.  Eastpointe, MI
Erick A.  Lake Orion, MI
Tony D.  Waterford, MI
Valerie K.  Farmington, MI
Jay T.  Clarkston, MI
Dustin G.  New Hudson, MI
Fred B.  Commerce Township, MI
William B.  Howell, MI
Kenneth B.  Howell, MI
Edward S.  Brighton, MI
Constance M.  Pinckney, MI
Conrad F.  Brighton, MI
Ronda H.  Brighton, MI
Robert M.  Coldwater, MI
Terry N.  Howell, MI
Rich F.  Brighton, MI
Jerry C.  Farmington Hills, MI
Elizabeth and Donald G.  Harrison Twp, MI
Mary Ann Z.  Fenton, MI
Sheila  K.  Oak Park, MI
Jeanene V.  Howell, MI
Paul H.  Fenton, MI
John C.  Brighton, MI
Joyce S.  Sterling Heights, MI
Steve K.  Chesterfield Twp, MI
Andrea O.  Howell, MI
David S.  Fenton, MI
Greg K.  West Bloomfield, MI
Thomas M.  Orchard Lake, MI
Virginia B.  South Lyon, MI
Carlos A.  Highland, MI
Janet H.  Hartland, MI
Rose D.  Brighton, MI
Prudence A.  Fenton, MI
Jennifer W.  Colorado Springs, CO
Peter D.  Brighton, MI
Doug S.  Fenton, MI
Kathleen F.  Macomb Township, MI
Marge M.  Howell, MI
Laura B.  Caro, MI
Sylvia C.  Brighton, MI
Thomas W.  St. Clair Shores, MI
Sue S.  Lake Orion, MI
Ray P.  Highland, MI
Joan J.  Howell, MI
Art L.  Hartland, MI
Deborah M.  Port Huron, MI
Diane D.  Birmingham, MI
Nancy H.  Fenton, MI
Barb M.  Brighton, MI
Mark W.  Clarkston, MI
Steven P.  Dexter, MI
Rose P.  Waterford, MI
Mike W.  Farmington Hills, MI
Paul W.  Fenton, MI
Margaret C.  Midland, MI
Louis F.  Gregory, MI
Marion H.  Fenton, MI
Wayne B.  Brown City, MI
Norbert Z.  Fenton, MI
Kristine E.  Bloomfield Hills, MI
Mike H.  Fenton, MI
D. H.  Fenton, MI
G.R. D.  Howell, MI
Bonita C.  Eastpointe, MI
Jill M.  Highland, MI
Walter  C.  Sturgis, MI
Phil W.  Howell, MI
Loren B.  Clio, MI
Connie R.  Fenton, MI
Kim P.  Hartland, MI
Jennifer H.  Pinckney, MI
Patricia P.  Troy, MI
Diane P.  Howell, MI
Lizz J.  Brighton, MI
Milton and Jean G.  Clinton Twp, MI
David D.  Fenton, MI
Mary H.  Howell, MI
Lou Ann L.  Howell, MI
Julius S.  Fenton, MI
Jennifer H.  Saline, MI
Tomas  K.  Grandville, MI
William H.  Howell, MI
James R.  Brighton, MI
Scott B.  Grass Lake, MI
Werner W.  Shelby Twp, MI
Bill S.  Saginaw, MI
David G.  West Bloomfield, MI
Cherie M.  Fenton, MI
Tim H.  St. Clair Shores, MI
Erik N.  Warren, MI
James M.  Hartland, MI
Linda H.  Holland, MI
Debra C.  Bay City, MI
Dennis B.  Pinckney, MI
Susan M.  Highland, MI
William G.  Howell, MI
Sharon B.  Rochester Hills, MI
Matt d.  Essexville, MI
Roger K.  Fowlerville, MI
Cornelius K.  Charlotte, NC
Dennis O.  Fenton, MI
Mike I.  Commerce Twp, MI
Gordie S.  Lapeer, MI
Patrick C.  Troy, MI
Barbara F.  Brighton, MI
Scott S.  Brighton, MI
Shelia W.  Howell, MI
John H.  Hartland, MI
Robert D.  Hartland, MI
Otto G.  Ann Arbor, MI
John & Jolene C.  Howell, MI
Anna N.  Howell, MI
Susan H.  Hartland, MI
Mike S.  Durand, MI
Diane C.  White Lake, MI
Janice F.  Brighton, MI
Dennis H.  Brownstown, MI
Nancy K.  Sheridan, MI
Linda W.  Clarkston, MI
Jim & Lill M.  W. Bloomfield, MI
Jack M.  Brighton, MI
Mary K.  Garden City, MI
Betty M.  Hartland, MI
Geraldine L.  Commerce Township, MI
Joseph K.  Farmington hills, MI
Kurt P.  Hartland, MI
Alex C.  Brighton, MI
Judi B.  South Lyon, MI
Bonnie F.  Vassar, MI
Darwin H.  Perry, MI
Stewart O.  Fenton, MI
John D.  New York, NY
Mark D.  White Lake, MI
Catherine Z.  Saginaw, MI
Robert H.  Rochester, MI
Dan S.  Brighton, MI
Catherine G.  Jackson, MI
David L.  Auburn Hills, MI
Frank S.  Howell, MI
Irv K.  Brighton, MI
Bill M.  Fenton, MI
Sharon D.  Bloomfield, MI
Amy C.  Frankenmuth, MI
Jim L.  Saginaw, MI
Pam R.  Howell, MI
Anne R.  Howell, MI
Margaret M.  White Lake, MI
Dennis B.  Brighton, MI
Roger C.  Romulus, MI
Nancy E.  Portage, MI
Elaine P.  Wixom, MI
April D.  Brighton, MI
Keith N.  Sterling Heights, MI
Tom L.  Milford, MI
Dan E.  Pinckney, MI
Penelope S.  Fenton, MI
David S.  Hartland, MI
Lisa P.  Washington, MI
Orville R.  Hartland, MI
Diane W.  White Lake, MI
Margaret P.  Vassar, MI
Mariah S.  Howell, MI
Patricia O.  Fenton, MI
Jeannine S.  Boyne City, MI
Richard S.  Hartland, MI
Julie D.  Linden, MI
David K.  Fenton, MI
Louise B.  Clarkston, MI
Ralph B.  Troy, MI
Paula S.  Brighton, MI
Cheryl O.  Chelsea, MI
Elaine S.  Brighton, MI
Marlene P.  Walled Lake, MI
Liz M.  Bloomfield Hills, MI
Wes N.  Hartland, MI
William P.  Novi, MI
Robert H.   Rochester  MI
Nascar Michigan 400
RetakeOurGov Sponsors
NASCAR Vehicle
Another milestone for RetakeOurGov as we become the first TEA Party group to sponsor a vehicle at a premiere NASCAR event. See our video and slideshow from Michigan International Speedway